I love beauty products. I first became hooked right after Brian and I got engaged, because I wanted to be able to do my own makeup for photos. I started researching the best brands, best quality, what looked the best in front of the camera, etc. After all these years I've become a big fan of Lorac, Lancome, Urban Decay, Rimmel, L'Oreal, Too Faced, The Balm, Revlon, Mac, Tarte, Stila… well, the list goes on.
That's why I get excited whenever one of my favorites pops up on Hautelook… and Stila is coming tomorrow! Hautelook doesn't always have the latest products I'm coveting, but I always look. These are some of the Stila items I'm wanting now so if one of them pops up tomorrow, I am going to pounce!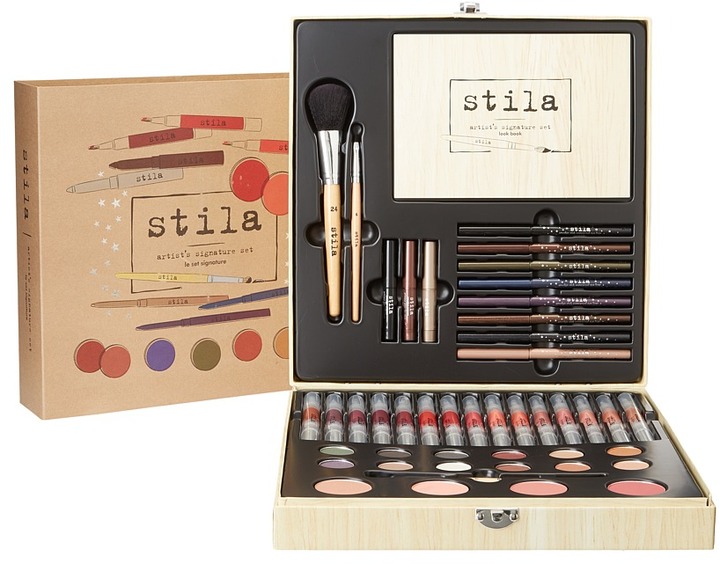 I've been a member of Hautelook for a few years now, and I have gotten some really great products at great prices. Urban Decay, Lorac and Laura Geller have all been featured several times in the past so I've hopped on those. Many of these brands don't come cheap so I always try and hold on until I can get them at a discount. Birchbox was another way I introduced myself to great beauty products when I wasn't sure where to start. Although I'm not a subscriber with them any more, I may re-subscribe in the future.
---
SHOP
Artist's Signature Set • Color Me Glossy Lip Glaze Set • CC Color Correcting Cream with SPF 20 • Stay All Day 10-in-1 HD Beauty Balm with SPF 30 • Magnificent Metals Foil Finish Eye Shadow • Magnificent Metals Eye Liner • Stila In The Light Eye Shadow Palette • Stila Stay All Day Liquid Lipstick • Stila 'in The Know' Eyeshadow Palette • Stila 'one Step Correct' Skin Tone Correcting Brightening Serum • Stila Baked Eye Shadow Trio • Stila Baked Cheek Duo • Stila Countless Color Pigments
---
Linked Up
Tres-Chic Fashion Thursday • Three-fer Thursday • Look What I Got • Thursday Favorite Things • Treat Yo'self • All Things Thursday • All Things Pretty • Fab Favorites